Compressor Maintenance Tips
Posted: January 2, 2015
The first of the year is a great time to make sure your air compressor is in good shape. When properly maintained, a good air compressor should give you years of performance in the field. Below is a quick maintenance guide for the compressor systems we sell and maintain most often*.
We also recommend an Annual Crane Inspection. An Annual crane inspection is not only OSHA Required, but it is also a great way to solve small problems before they become big liabilities.
BOSS BA435

The BA435 Compressor is almost identical to the IMT DA435. We've been using these for over a decade and have been near bulletproof in the field. They are also very easy to service.
Recommended Maintenance: You should change your oil every 3 months and your air filter every 6. If you regularly work in dusty environments, you may want to service more often. While you're in there, make sure the drive coupling is not overly worn and that your cooler fins are not caked with dirt.
Parts:
(2) Qts Oil - 308245
Air Filter Element - 300854
Maintenance Tip: The book calls for adding 1 1/3 qts. You can add a little more if you regularly work in uneven terrain. This will keep your pistons lubricated when you're working on an incline.
Rebuild / Trade In: We rebuild the BA435 and DA435 to give you like new performance and we offer core credits if you want to replace yours. Call John at 800-824-0622.
Infinity Rotary Screw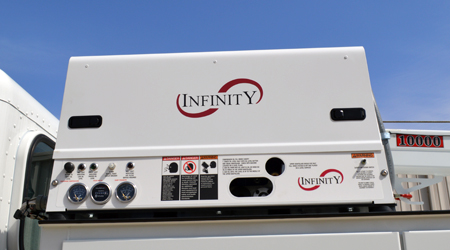 Rotary Screw Compressors are designed to work HARD. In fact, the biggest problem we run into is when customers don't run their compressors hard enough! If you run your rotary screw in short bursts the compressor never gets hot enough to burn off the moisture that collects in the oil.
Recommended Maintenance: You should change your oil and air filter element every 6 months. You should change your coalescer filter element every year. The coalescer filter separates the oil and air as it comes out of the screw. As this filter ages, it looses its effectiveness and you will see more oil escaping the system and a decline in performance.
Parts:
Oil Filter Element - 302601
Air Filter Element - 307152
Coalescer Filter - 302600
Oil - Use Dextron III ATF
Maintenance Tip: Keep the water out of your compressor oil. The best thing you can do for any rotary screw is make sure that it gets up to temperature (185°) daily or hopefully a few times a week. Crack the air drain and let it run for a good 10-15 minutes after it is warmed up (approx 20 minutes total depending on ambient temperature).
Miller EnPak

The EnPak has been a very successful product for us since its launch around 2008. We have very few service related issues with the EnPak and one of the nice features is that it notifies you when service is due.
Recommended Maintenance: You should change your engine oil every 200 hours, your oil filter and fuel filter every 400 hours, your compressor oil, compressor oil filter and compressor air filter every 500 hours or yearly. You should also change your coalescer filter and hydraulic fluid yearly.
Parts:
Due to the recent switchover to Tier 4, please provide your serial number for all EnPak parts orders to make sure you get the right parts.

Maintenance Tip: The EnPak rotary screw compressor is very similar in concept to the Infinity 60. Run it hard at least once a day to keep the water out of the oil and you'll never have to worry about a freeze up or maintenance issue with the screws.
IMT DA435HA

Same maintenance as the BA435 above.
IMT CAS3560

This compressor has been phased out but we still support it.
Recommended Maintenance: Change the air end oil, air cleaner and coalescer filter every 500 hours or 12 months. Change your oil every 3 months under normal operating conditions. Again, this is a Rotary Screw so run it hard especially during the winter months.
Parts:
Oil (Gallon) - 89086201
Oil Filter - 73396426
Air Filter - 70048217
Coalescer Filter - 73396427
Maintenance Tip: Again, Rotary Screws need to get up to temperature. Run hard, and burn the moisture off.

IMT CAS40P

We typically use a BOSS piston compressor on our builds but absolutely support the CAS40P.

Recommended Maintenance: This has similar maintenance needs to the BA435. Change your oil every 6 months.
Parts:
Oil(1 Gallon) - 89086220
Air Filter - 70048254
Belt - 70580210
IMT CAS60R and CAS45R

The CAS45R and CAS60R are both rotary screw compressors that have similar maintenance as the CAS3560 and the BOSS Infinity 60.
Recommended Maintenance: Change your oil, air intake filter, coalescer filter and oil filter element annually. And run them hard once a day to keep the water out of the system.
Parts:
| | |
| --- | --- |
| CAS60R | CAS45R |
| Oil Filter - 70048249 | Oil Filter - 70048252 |
| Coalescer - 70048248 | Coalescer - 70048251 |
| Air Filter - 70048250 | Air Filter - 70048253 |
| Oil (1 Gallon) - 89086222 | Oil (1 Gallon) - 89086222 |
| Belt - 70580211 | Belt - 70580212 |
We hope this helps you keep your compressors in good working order. We can also help you with parts and maintenance on all IMT, Autocrane, Stellar, Vanair, Ingersoll Rand, Doosan, VMAC, Kellog, Curtis and other common compressors. If you don't see you compressor listed, please contact us.
*Always check your manual for full details. This is a overview guide only!
Posted: