Backup Cameras and Articulating Cranes
LEAD TIMES: Lead times from IMT have extended to 14 weeks on mechanic trucks for standard product and 17 weeks for anything that needs engineered. We have had 8-12 week lead times for the last several years. Lube Truck lead times are currently 22 weeks. We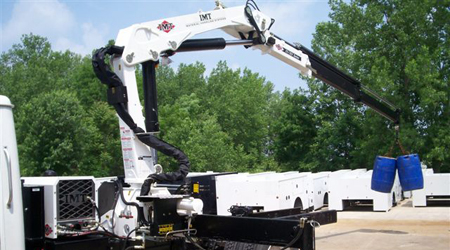 placed a large stocking order through the rest of 2014 to keep standard product on the shelf and your lead times minimized.
ARTICULATING CRANES: Our sales staff just went through a full day of factory Articulating Crane training and our team is knowledgeable on the latest technology coming out of IMT including radio controls and improved safety features. IMT is keeping knucklebooms in stock up to 40 Ton Meters (max lift 9+ tons). Check out our Hall of Fame to see a few recent projects with custom fabrication and articulating cranes.
www.qtequip.com/hof
BACKUP CAMERAS: The National Highway Traffic Safety Administration recently announced new regulations for rear visibility on trucks that will start phasing in over the next four years. The price of this technology has gotten inexpensive enough that one avoided accident in your fleet can pay for all the cameras. We have installed backup cameras on several projects this year and can help on new units or retrofitting your existing fleet.
THE TEAM: Congratulations to Kenny Burch on his 20 year work anniversary, and has never been late! Mike Wielkopolan is now our Florida Service Manager. Ian Shary has recently been promoted to Assistant Production Manager.
Current open positions are posted at:
www.qtequip.com/jobs
Posted: