Boss Infinity Rotary Screw Air Compressor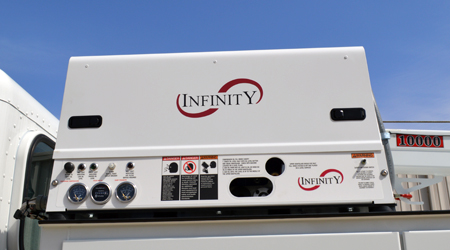 The BOSS Infinity Rotary Screw Air compressor has been in service for 8+ years. It is a proven product in the field.
We keep this unit in stock and can usually ship the same day. Click Here to Request Pricing.
The advantage of a Rotary Screw compressor is that they are designed to give you Air On Demand and the harder they work, the better they perform. Within a few seconds of turning a Rotary Screw on, you have full volume and pressure.
Rotary screws need to be brought up to temperature and run for 15-30 minutes daily. If you run a rotary screw like a Piston Compressor you will not burn off the moisture inside the screws causing performance problems. If you like to cycle your compressor on and off all day, please think a Rotary Screw through before purchasing. You do not need an air tank with a rotary screw compressor. If you use an air tank, you may hinder performance if not installed correctly.
BOSS Infinity Compressors Offer:
American Made Quality
Air On Demand
60 CFM @ 150 PSI
14.2 GMP @ 2900 PSI, 25 Gal Reservoir Hydraulic Requirement
Ambient Running Conditions -20° to 120° Fahrenheit
10° Max Operating Slope
We also offer rebuilds on these units. Call 800-824-0622 for more information on compressor rebuilds.
Download BOSS Infinity Compressor Specs