Lube Truck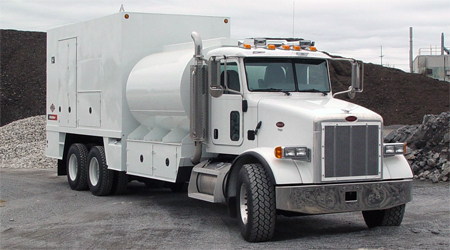 IMT has been building lube trucks for more than 30 years. During that time, they've learned a thing or two about how to make a Lube Truck last in some of the harshest working conditions in the world.
We keep lube trucks on the ground and in the production schedule to shorten your lead times. Current leads times from the factory are 20-24 weeks. Click Here for Current Lube Trucks For Sale
Advantages to the IMT SiteStar Lube Truck
Polyethylene (Poly) Tanks: 80% reduction in tank weight versus steel, allowing you to carry more product. Same warranty as steel tanks. Cleaner product because the Poly does not rust. Poly tanks have been in the field since 2007 and can be considered a "proven" product.
Enclosed or Open Style options: Enclosed units can include several different heating and insulating options to keep your product flowing even in cold weather.
Ballpark Capacities:
New Product Only. No Fuel
Single Axle (33k GVW)
Approximately 900 Gallons of New Product
Tandem Axle (Approx. 64k GVW)
Approximately 1300 Gallons of New Product
Fuel and Lube Combo
Tandem Axle (Approx. 64k GVW)
Up to 2000 Gallons of Fuel and 900 Gallons New Oil
Poly Tank Sizes:
Available poly tank sizes are as follows:
55 Gallon
75 Gallon
135 Gallon
190 Gallon
250 Gallon
350 Gallon