Boss BA440 Air Compressor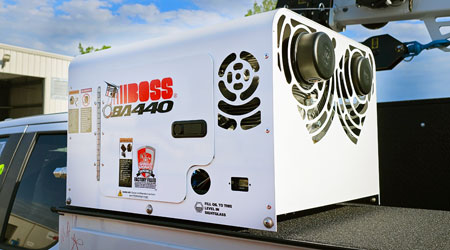 The BOSS BA440 replaces the IMT DA435. They are almost identical units. The BOSS BA440 is a proven hydraulic piston compressor.
We keep this unit in stock and can usually ship the same day. Click Here to Request Pricing.
You will need an air tank with this compressor and will need to wait for air pressure to build up unlike Rotary Screw Compressor models. The upside is that you have lower cost and you can cycle this compressor on and off all day long without a problem. Rotary screw compressors are desgined to run continuously and can cause headaches if they aren't allowed to build enough heat in the system.
BOSS BA440 Offers:
American Made Quality
35 CFM @ 100 PSI (150 PSI Max)
Aluminum Compressor Assembly (Lighter weight, better thermal efficiency)
10 GPM @ 1,850 PSI (2,400 PSI Max) Hydraulic Requirement
Routine Maintenance can be performed without removing canopy
2 Year Warranty on Compressor, 1 Year Warranty on Remaining Components
We also offer rebuilds on these units. Call 800-824-0622 for more information on compressor rebuilds.
Download BOSS BA440 Compressor Specs