Truck Mounted Air Compressors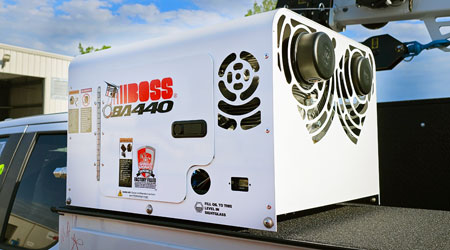 The air compressor will rack up the most hours of any tool on your service truck. Having the right compressor is critical to a productive mechanic.
There are 5 main styles of truck mounted air compressors: Hydraulic Piston, Hydraulic Rotary Screw, Gas Powered, Combo Units and Underhood.
Most Popular Air Compressors:
Our most popular air compressors are:
Click Here for Comparison of Truck Mounted Air Compressors.
BOSS Air Compressors:
Here are all the current and past BOSS air compressors:
| | | | |
| --- | --- | --- | --- |
| Infinity 100 | 100 | Hydraulic | ✓ |
| Infinity 35 | 35 | Hydraulic | ✓ |
| BA440 | 40 | Hydraulic | ✓ |
| Infinity 80 | 80 | Hydraulic | ✓ |
| Bullet 2 | 70 | Gas | X |
| BA435 | 35 | Hydraulic | X |
| Series 35 | 35 | Hydraulic | X |
| BA502 | 50 | Hydraulic | X |
IMT Air Compressors:
Here are all the current and past IMT air compressors:
| | | | |
| --- | --- | --- | --- |
| CAS40P-AW | 40 | Hydraulic | ✓ |
| CAS40PL | 40 | Hydraulic | ✓ |
| CAS45RS | 45 | Hydraulic | ✓ |
| CAS80RL | 80 | Hydraulic | ✓ |
| CAS4110HT | 110 | Hydraulic | X |
| CAS4110HU | 110 | Hydraulic | X |
| DA440HU | 33.5 | Hydraulic | X |
| DA435 | 35 | Hydraulic | X |
| CAS435HA | 35 | Hydraulic | X |
| DA435HA | 35 | Hydraulic | X |
| CAS40P-AW | 40 | Hydraulic | X |
| CAS3560 | 60 | Hydraulic | X |
| CAS60R | 60 | Hydraulic | X |
| CAS85 | 85 | PTO Direct Drive | X |