IMT Cranes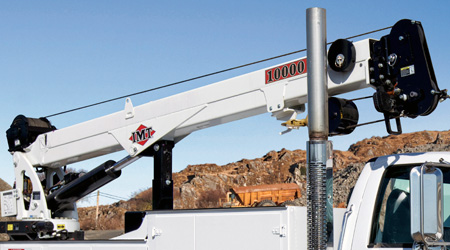 IMT telescopic cranes take on heavy lifting out in the field and are designed to integrate with IMT Service Trucks.
Patent Pending Penta Boom Design
Fully Proportional "Pistol Grip" Radio Remote
Boom Angle -10° to + 80°
Flip Sheave Boom Tip
Patent Pending Hook Stow
LED Boom Tip Lights (optional)
Smart Error Codes on Receiver
400° Rotation
Single Line Winch Speed of 60 fpm (no load)
IMT also manufacturers as line of Electric Cranes as well as Articulating Cranes.
Current IMT Crane Models
Click on a crane below for more information.
| | | |
| --- | --- | --- |
| Model: | Max Reach: | Max Lift: |
| IMT 1015 | 15' 0" | 3, 200 lbs. |
| IMT 2020 | 15' 0" | 5, 000 lbs. |
| IMT 2020 | 20' 0" | 5, 000 lbs. |
| IMT 2820 | 20' 6" | 5, 000 lbs. |
| IMT 3820 | 20' 6" | 7, 500 lbs. |
| IMT 6000 | 22' 6" | 6, 000 lbs. |
| IMT 7500 | 22' 6" | 7, 500 lbs. |
| IMT 7500 | 30' 10" | 7, 500 lbs. |
| IMT 8600 | 22' 6" | 8, 600 lbs. |
| IMT 8600 | 30' 10" | 8, 600 lbs. |
| IMT 10000 | 24' 9" | 10, 000 lbs. |
| IMT 10000 | 30' 10" | 10, 000 lbs. |
| IMT 12000 | 31' 0" | 12, 000 lbs. |
| IMT 12000 | 24' 5" | 12, 000 lbs. |
| IMT 14000 | 31' 0" | 14, 000 lbs. |
| IMT 14000 | 24' 5" | 14, 000 lbs. |