VIDEO: Custom Freightliner Service Truck Walkaround
This customer went through our list of options and basically hit "select all" and added a few! Excuse the shaky video (we're truck builders not movie makers) but here is a walk around of this unit before it got delivered.
Specs:
Freightliner M2 Business Class®
14' IMT Series 3 Dominator Crane Body
IMT 7500 Crane 22' Reach, Radio Remote Fully Proportional
BOSS 60 CFM Infinity Compressor
Bobcat 250 Welder
(2) 75 Gallon New Product Systems, Poly Tanks
(1) 75 Gallon Salvage System, Poly Tank
Compartment Pressurization System
LED Compartment Lights
LED Boom Tip Lights
Additional Work Lights
(3) 41" Toolboxes
(1) Bolt Bin
Oxygen / Acetylene Setup
Masterlock
Strobe Lights
Strobe Bar
1000W Sine Wave Inverter
Laptop Stand
When we do a project this involved the first thing we do is a 3D mock up. This helps the customer visualize what everything is going to look like and helps production know where everything is going to fit. Since we started doing these mockups, our rework for custom units has dropped significantly.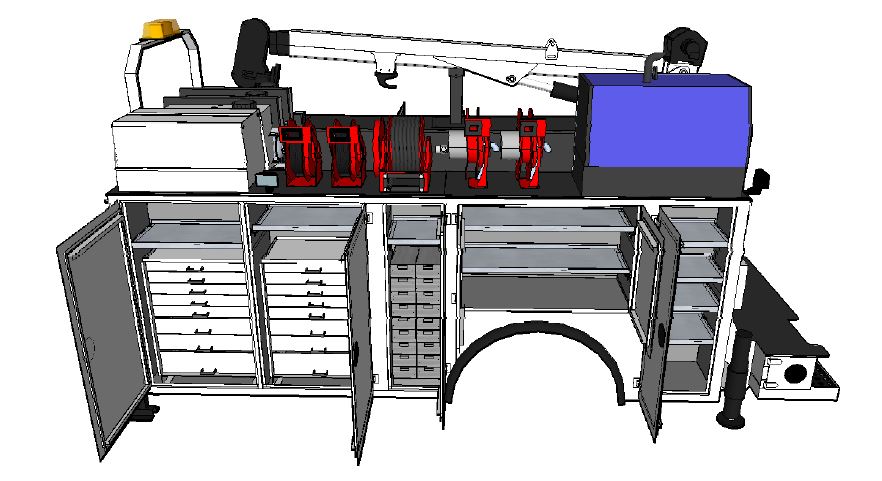 Posted: